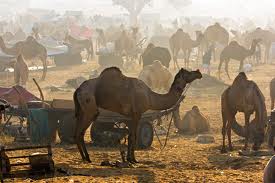 Pushkar
With a captivating mythical charm, the sleepy lakeside city of Pushkar is a backpacker's paradise, sitting in the lap of Aravalli hills with its hundreds of temples and holy lakes. Pushkar is situated on the edge of the vast Thar Desert and fondly called the Rose Garden of Rajasthan, thanks to its intoxicating roses whose essence is popular across the globe. A holiday to Pushkar is sure to give you the real taste of the tranquil and spiritual ambience of this holy city, which bewitches tourists from world over with its captivating architectural splendor, dwindling lanes, colorful fairs and festivals, shopping arcades, and rooftop restaurants.
Getting to Pushkar
Sandwiched between hills on three sides and a sand dune on the fourth side, the fascinating city of Pushkar is located at about 400 kms from the Indian capital of Delhi and is easily accessible by rail, road and air.
• Jaipur Airport is the nearest airport to Pushkar, with frequent flights to Delhi and other prominent Indian cities.
• Ajmer is the nearest railway station, with direct trains to and from Delhi, Jaipur, Udaipur, Jodhpur, Mumbai, among other destinations.
• Pushkar is linked to Ajmer through road. After landing in Delhi, you may travel to Ajmer by the well-furnished Shatabadi Express, and then take a bus to Pushkar. Private transportation is aplenty in Pushkar.
Pushkar Weather
Winter is ideally the best time for a Pushkar holiday, when the weather remains nice and cool. Plan a holiday in November when the Pushkar Fair is held and Indians from world over throng the holy town to take a dip in the sacred Pushkar Lake.
Pushkar Attractions
Pushkar Lake is undoubtedly one of the prime attractions to visit during a holiday to Pushkar. With numerous stairs, known as ghats, leading to the Holy Lake for pilgrims to bathe in the holy waters, the charming lake flanking the hills is supposed to have special healing power.
Pushkar is widely popular for its Hindu temples, depicting majestic architectural splendor. Brahma Temple is ideally the most popular places of interest in Pushkar, standing atop a high pedestal with marble steps taking the visitors to the temple. Another attraction in the temple is a beautiful carved silver turtle statue facing the sanctum, with the marble floor around the turtle embedded with innumerable silver coins.
With its immense archeological importance, the giant Taragarh Fort guards the pristine city, with its six gates and towering walls. Standing atop the fort gives you a panoramic view of the scintillating city landscape.The red temple, with its double-storey hall, is richly adorned by precious stones, glass mosaic, and gold and silver works. The magnificently decorated hall displays gold plated wooden figures that depict legends from ancient Jain mythology.
Your Pushkar holidays are incomplete without a visit to the extraordinary ruins of Adhai – Din Ka- Jhonpra mosque. A splendid masterpiece of Indo – Islamic architecture, this is a relic of an old mosque with distinct pillars, soaring domes, ruined minarets, and an arched screen of seven pointed arches.
Pushkar Vacations: Exploring Authentic Untouched India
A delight to visit any time during the year, the tiny town of Pushkar enthralls you with its laid-back atmosphere, offset by the amusing horseback safaris into the desert, plenty of tiny shops selling unique ethnic handicraft, and elegantly decked temples. When are you planning your Pushkar holidays?
For Places to stay at Pushkar – Search here
PreferTrip has ties-up with Hotels ALL around India to provide you best and affordable deals, matching any kind of budget. For your bookings / reservations, ֠contact one of our experienced staff member at [email protected] .
For general comments- contact us at [email protected].