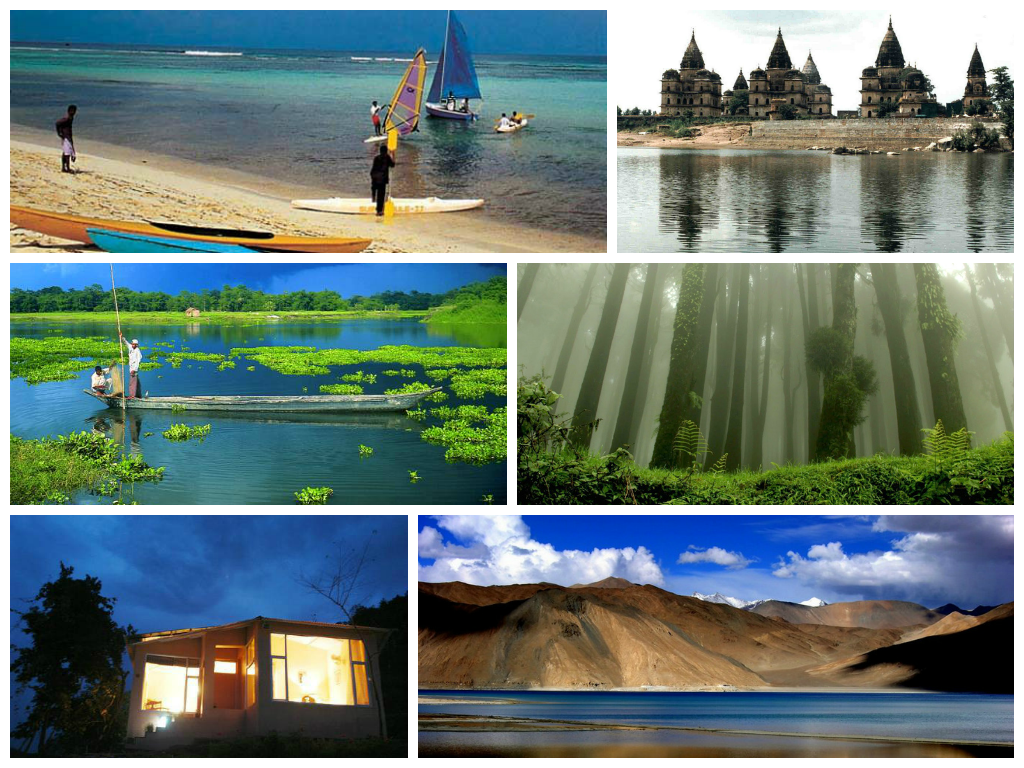 When you are able to squeeze out some vacation time from the frenzied work life, the desire to experience something completely new overtakes you. There are myriad travel destinations but only a few that offer that truly unique and distinct experience. Some of these places are bestowed with nature's abundance and yet others are man-made wonders and the works of some insatiable and creative minds. Fancy an offbeat vacation?!
Spiti Valley's stark beauty is spell-binding and jaw dropping. Perched comfortably at an altitude of 12500 feet above sea level, this divine valley is located in Himachal Pradesh and is on the shore of the gurgling Spiti River. Standing on guard to this beauteous valley are snow-laced mountain ranges, jaded landscapes and cyan water bodies. It is also home to some of the most pristinely beautiful and ancient monasteries in the world. Spiti borders Tibet and so is largely influenced by the calm serenity of Buddhism and offers some rare experiences of life in the grand Himalayas.
Imagine an arched hall that is about three stories tall and yet is not supported by any pillars or beams or other supporting structure? This mystical and rationality defying structure is the Gravity Defying Palace in Lucknow, better known as The Bara Imambara. What is so stupefying about this structure is the interlocked brickwork that holds it together. Built way back in the 18th century, this man-made marvel is an interesting blend of architecture taken from European and Arabic influences. The Palace is surrounded by verdant lawns with a stunning array of bright gossamer blossoms. This structure houses an intricate maze called the "Bhulbhulaiya" and was built to keep intruders out. Legend has it that if intruders entered they could never find their way out and hence visitors with more than just a curious spark can enter this maze with a trained guide. Intriguing!
Andretta seems like a rather fancy, not Indian name for this tiny village, nestling snugly in the Kangra Valley and about 14 kms to the south of Palampur. It is a paradisal and unspoilt spot that embraces and proclaims a rich cultural heritage with unexplained peace and tranquility. The reticent Andretta seems guarded by the gigantic Dhauladhar range also known as the Milky Mountains. The people here exude charm, grace and seem unfazed by the ravages of modernity around them. The village boasts of the Pottery and Crafts society where one can learn miniature painting and pottery. In the early 1930's Ms. Norah Richards, a famed writer and dramatist took Andretta under her wing and till today students gather to celebrate her birthday on the 29th of October each year.
Literally meaning 'hidden', Orchha is a 'shy' town in Tikamgarh, Madhya Pradesh built in 1501. It is like the hidden portion of history and architecture that remains unexplored, a secretly buried treasure that awaits discovery and is almost like poetry in stone. It lies serenely along the banks of the Betwa River that mischievously reflects the gold, silver rays of the sun adding to the hushed charm of this 'hidden' beauty. Steeped in culture, this town is dotted with the most awe-inspiring temples and 'chhatris' built along the river. These structures are 14 in number and present a rather 'story book' like border to the banks and continually see their reflection in the waters of the river.
The diversity of India's landscape offers many more such ravishing experiences. Visit PreferTrip.com for more.