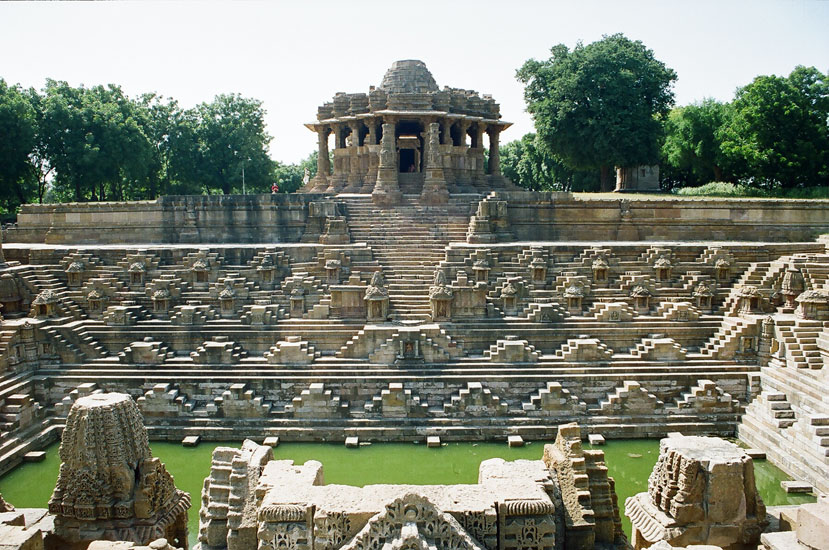 Sun Temple at Modhera is one of the few shrines that are devoted to the Sun God. It is situated on the banks of Pushpavati River in Modhera; Sun Temple in Modhera is easily reachable from Ahmedabad, the largest city of Gujarat.
The Modhera Sun Temple encompasses three main chambers, namely Surya Kund, Sabha Mandap and Guda Mandap. Surya Kund is essentially a beautifully carved step tank that was named after Sun God. Sabha Mandap is the hall, where citizens gather for discussions on religious topics. Guda Mandap is the sanctum sanctorum, also known as the most important temple.
The brilliant structural design of the temple is one of its own classes. The place of worship encompasses three different yet axially-aligned and integrated constituents. As per the Konark Temple, this shrine is designed in a manner, so that the first rays of the Sun cast on the image of the Lord Surya. The Temple was plundered by Mahmud Ghazni; temple in Gujarat still the architectural grandeur is not vanished. No matter what is left, yet the bits and pieces which provide a great charm to behold.
Modhera is now the place of several dance and cultural festivals. The sun temple and the ambience here provide a majestic background for the exhibition of performing arts. Modhera tourist attractions are one of the premium architectures of the eleventh century. One of the best features of the temple consists of the carved torana arches. This temple has been planned such that the sun's rays light up the sanctum at dawn, during the time of the equinoxes.
In front of the temple is a colossal tank, which was once known as Surya Kund or Rama Kund. The tank has a series of carved steps leading to the bottom. More than a few miniature shrines adorn the steps of the tank – which is an art gallery in itself.