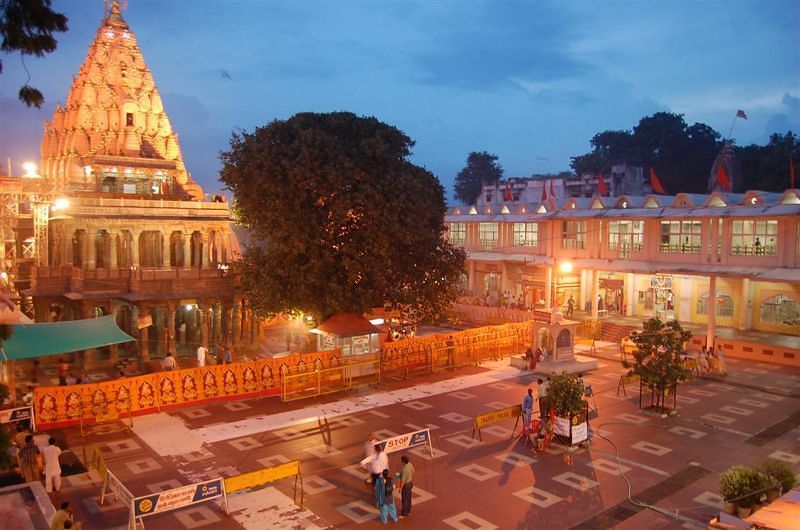 Mahakaleshwar Temple in Ujjain has a different tale. The burning floors, long queues of people, pushing and shoving of hundreds of Shaivites who have thronged the shrine to seek the blessings of the "Creator and Destroyer". This time is auspicious to offer prayers to "Lord Shiva and "The Mahakal". It is the most important in the 12 Jyotirlingas in India. It is believed to born on its own and deriving the power within itself.
Indore sees an incursion to the thousands of devotees who make annual trips to the sacred places of Ujjain, Omkareshawar and Maheshwar. To host these tourists there are many branded hotels.
Ujjain – In Hindu mythology when the gods and demons obtain the ocean of the milk, a few drops of nectar fell on the four places: Haridwar, Nasik, Prayag and Ujjain. These are the four sacred places for kumbh Mela. It is surrounded by the holy waters of Shipra River, Ujjain houses Mahakal as one of the twelve celebrated Jyotirlingas in India. Women are not allowed for entry during the ritual of the lingam as it is smeared with still-hot ashes from the cremation grounds in homage to Shiva, the 'master of death'.
There is also The Harsiddhi Temple, where according to the Shiva Purana, when Shiva carried away the body of Sati, her elbow dropped here. The temple is believed to be associated with the tantra (black magic) cult.
Mandu – It is located 3 hours from Indore. A fort capital of the Parmar rulers of Malwa. The admiring the massive Jami Masjid, Jahaz Mahal and Hoshang Shah's tomb that provided inspiration to the main architect of the Taj Mahal.
Maheshwar – To the characteristic hand-woven Maheshwari sarees, there is more to this tranquil town to be settled on the banks of the holy Narmada River. There are various temples that reminder of different forms or 'avatars' of Shiva. The most notably structure, however, is the Ahilya Fort, residence of the erstwhile royal family (Holkar) of Indore.
Omkareshwar – It is the the confluence of Narmada and Kaveri rivers. Omkareshwar means "The Lord of Omkaara" or the "Lord of the Om Sound". There are different versions of stories about the origin and the history of the place. The 'Omkar Mandhata' temple, dedicated to Shiva, shelters one of the twelve 'jyotirlingas'. Other temples, like the Siddhanath Temple, are fine examples of early medieval Brahminic architecture. This temple is well known for the fresco of elephants carved upon a stone slab on its outer perimeter.